Bernard Hooper well known in the motorcycle industry for the highly successful Norton Commando and the Isolastic system formed BHE to further advance R & D into the novel concept of the stepped piston engine, together with advanced projects on conventional engine and vehicle projects.
---
The background to the present day
BERNARD HOOPER ENGINEERING LTD
---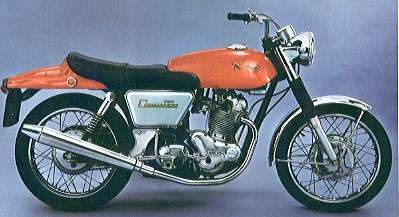 Norton Commando - Motorcycle of the Year 5 times in succession
Bernard Hooper, Chief Engineer of Norton Villiers Ltd from 1965 to 1974, was responsible for the design of the Norton Commando. He led the team behind this highly successful British Motorcycle securing the future of the Norton Company at that time. Later work comprised advanced projects including the stepped piston engine for single cylinder industrial and motorcycle application (as shown below) to expand the Norton range.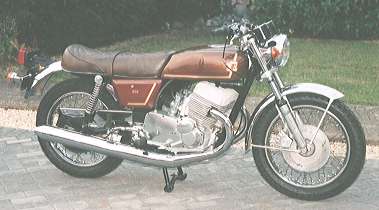 Norton Wulf 500
The first modern multi-cylinder stepped piston engine, designed by Bernard Hooper whilst Chief Engineer of Norton Villiers Ltd. The engine was 500 cm3 capacity producing 42 BHP at 6500 RPM, achieving a mean top speed of 103.15mph at the MIRA proving grounds. Group Chairman, Dennis Poore, insisted that the basic engine should be able to allow for a 750 cm3 unit from the same engine block. This means that the 500 cm3 unit shown is of course much larger than it would otherwise be. The air cooled Wulf shown above was further developed at BHE Ltd as a liquid cooled Wulf II unit in the interests of creating a low emissions two stroke engine with greater efficiency. The Norton Wulf, Wulf II, Norton 76 (new Commando replacement) and EURO50 (50 cm3 entry level bike) are currently on loan to the National Motorcycle Museum at Solihull in England.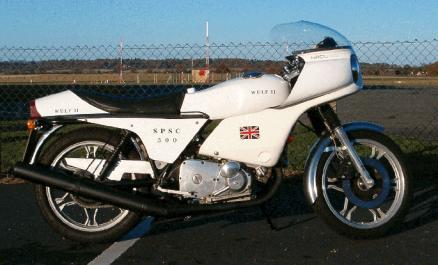 Wulf II
Details of a more recent stepped piston Motorcycle engine can be seen on the Motorcycle Engines page of this website. Development of the stepped piston engine is ongoing at Bernard Hooper Engineering Ltd for a number of applications (please select from our Home Page).
Selected Technical Papers
Hooper, P.R., Al-Shemmeri, T and Goodwin, M.J. (2012) - "An experimental and analytical investigation of a multi-fuel stepped piston engine" (Journal of Applied Thermal Engineering April 2012)
Hooper, P.R., Al-Shemmeri, T and Goodwin, M.J. (2011) - "Advanced modern low emission two-stroke cycle engines" (Proceedings of the Institution of Mechanical Engineers, Part D: Journal of Automobile Engineering. Vol. 225 No.11, November 2011)
Hooper, P.R. (2005) - "Stepped Piston Engines for Multi-Fuel UAV Application" (IMechE Conference on Propulsion Systems for Unmanned Aircraft, Bristol, 14 April 2005) *
* - This paper was awarded the Institution of Mechanical Engineers Aerospace Industries Division Charles Sharpe Beecher Prize, "for the best paper on an aerospace subject published by the institution in the previous year or for a contribution in that field," at the AID AGM at IMechE HQ on 16 May 2006.
Hooper, P.R. (2001) - "A Stepped Piston Engine for UAV Application" (UVS TECH 2001 Conference Brussels, November 2001)
Hooper, P.R. (1999) - "Initial Development of a Multi-fuel Stepped Piston Engine for Unmanned Aircraft Application" (4th International Conference ICE99, Capri, Naples 12-16 September 1999)
Hooper, B and Hooper, P.R. (1996) - "Initial Heavy Fuel Development of Stepped Piston and Crankcase Scavenged Two-cycle Engines" (12th International RPV Conference, Bristol University, 9-11 September 1996)
Hooper, B and Hooper, P.R. (1991) - "Design and Development of the 30kW RPV Stepped Piston Engine" (9th International RPV Conference, Bristol University, 9-11 September 1991)
Hooper, B and Favill, J.E (1978) - "Modern Stepped Piston Engines" (IMechE paper C133/78 Design and Development of Small IC Engines Conference 31 May - 2 June 1978)
BERNARD HOOPER ENGINEERING LTD
For further information please enquire via the Contact us page of our website
© BERNARD HOOPER ENGINEERING LTD
---
<![if !supportEmptyParas]> <![endif]>
<![if !supportEmptyParas]> <![endif]>
<![if !supportEmptyParas]> <![endif]>